Step 4 - Test and Launch!
Map Your Marketo Program
From you Digest Dashboard, head for the Marketo Settings section and enter the name of your new Marketo Program and Smart campaigns.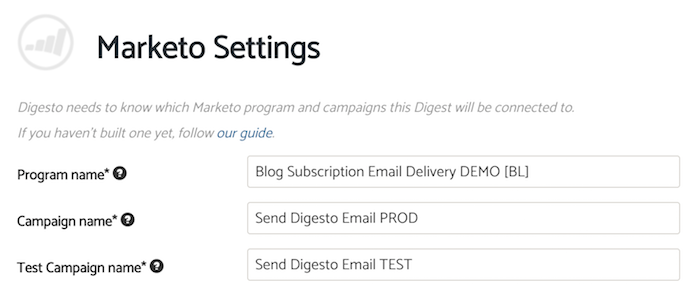 Test
From Digest list, click the TEST button and Confirm the test. 




You can also save your Digest and trigger your test from the dashboard view
The TEST will grab all posts (as opposed to the scheduled Digest that will only grab newly published content since last run), up to the Max N. of posts that you have setup, will inject that content in the email using the token you have defined and will schedule the TEST Campaign in your Marketo Program for immediate run. 
To visualize the flow in Marketo, select your TEST campaign within the Digesto Program (refresh it if it's already opened) and go to the Schedule tab. You will see the exact time of the next run. Note that there is a 5 minutes delay 
When the TEST campaign runs, members of the TEST list will receive the email.
5.2 Activate your Digest
To activate your Digest, simply toggle the button from OFF to ON.
Do not attempt to schedule manually the campaign in Marketo as this will result with the send of an empty email to your subscribers. Digest will schedule the Marketo campaign and add new posts at the specified time.  
And voilà! You are done! You have successfully scheduled your first Digest.
<< Back to Digesto - Getting Started Home